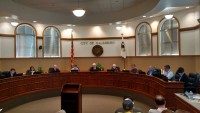 Galesburg City administration has proposed a balanced budget for the next fiscal year.
City Manager Todd Thompson says there's been about a 1 percent revenue increase, mostly from property taxes.
In order to balance though, Thompson says they've proposed about $2.51 million in spending reductions.
One of the challenges he says on the revenue front is the state reducing the amount of income tax disbursements its made by 10 percent.
Council will have to give direction on the property tax levy but if they left it where it is, that would likely be a rate decrease for most property owners due to a projected increase in Equalized Assessed Value.
Still they should see a revenue increase of about $314,000.
Thompson also recommends paying pensions at a rate in between the minimum amount guided by statue and the actuary recommended amount.
He adds though that in past years any surplus dollars have put towards pensions.
Thompson also says using historical data, there will be a $3.6 million deficit over the next four years and it will be a difficult problem to cut our way out of.
Council has to post the budget and levy for a month before its finally approved in December.