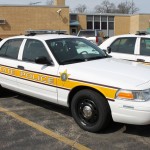 One female driver has lost her life as a result of a single vehicle rollover in McDonough County last night, as two juvenile passengers were treated for minor injuries.
58-year old Virginia L. Jingst of Warsaw, Illinois is the name of the deceased.
Jingst was southbound on U.S. Route 67 south of County Road 2200 North when she left the roadway and overcorrected, crossing both lanes of traffic.
Her Ford F250 truck rolled several times before landing on its wheels.
Jingst was airlifted to OSF but was later pronounced dead at the hospital as a result of the injuries she sustained.
Her two passengers included a 13-year old male and 12-year old female both from Keokuk, Iowa.
Both of the juveniles were transported to McDonough District Hospital but were released after being treated.
Illinois State Police assisted at the scene, as did McDonough Sheriff's Deputies, Goodhope Fire and Rescue, and Air Evac.