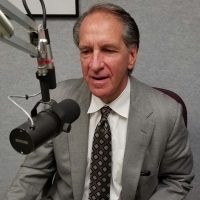 A bill endorsed by Attorney General Lisa Madigan is intended to help students and families navigate through the confusing landscape of students loans.
SB1351 says it provides a "student loan bill of rights."
Gov. Bruce Rauner vetoed the bill in August saying it infringed on the federal government and would only confuse an already "complex system."
Some of the things the law would require would be for loan servicers to tell borrowers about all repayment options, some which could say borrowers money in the long run.
Weaver, like many Republicans voted against the original bill and the veto override.
He says students need to be "treated fairly by the college loan process" and he agrees with parts of the bill, he echoes Rauner that it needs to be handled at the federal level.
Weaver says that lenders at the national level are already "licensed and regulated."
Creating new standards at the state level would in his mind, create another "layer of bureaucratic red tape."
Despite Weaver and Republican opposition the override was approved in the Senate and now heads to the House where it needs 71 votes, including a few Republicans.
Additionally, Sen. Weaver has sponsored a bill in the Illinois Senate, that the chamber approved last week, to rename two stretches of roads.
One of the roadways would be dedicated to two Annawan High School grads who were killed in the line of duty as law enforcement officers, in separate incidents.
The resolution if passed by the House, would dedicate the Illinois Route 78 overpass over Route 80 in memory of Deputy Sheriff Adam Streicher and Chad Wolf.
Streicher worked for the villages of Atkinson, Sheffield and Annawan before getting work as a sheriff's deputy in Stark County in 2001.
He was shot while attempting to serve a failure to appear warrant in March 2017.
Fellow graduate of Annawan High School Chad Wolf, a Michigan State Trooper, was killed on patrol in August, when his motorcycle was struck by a vehicle.
The other memorial roadway would be to name Route 29 through Chillicothe for "Senior Chief Petty Officer William "Ryan" Owens.
Owens was a Navy Seal that died as a result of wounds sustained in combat in January.
Weaver says that he hopes these memorials will "inspire others" with the men's "bravery and selfless dedication."