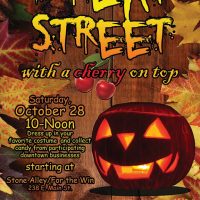 The Galesburg Business Association is continuing what has become a Halloween tradition of sorts, but with some changes.
This is the 6th year for "Treat Street" – where downtown businesses have special goodies for local youth who put on their Halloween costumes. GBA head Amye Peterson says in the past participants started at Casey's Party Creations – that is, until owner Dennis Case retired and moved to Florida.
"It's going to be starting at Stone Alley [Books and Collectibles/For the Win Gaming]. That's where [kids] can pick up their bags," says Peterson. "We always buy 1,000 bags, and we run out every single year. So that kind of allows us to gauge how many kids come. That doesn't even include kids that bring their [own] bags.
Peterson says Trick-or-Treaters will be given maps to identify where to go, which will include the WGIL studios on East Simmons Street.
New this year…a street party from noon to four on Cherry Street from Simmons to Main, including live entertainment, games, and more.
Find out more by CLICKING HERE.