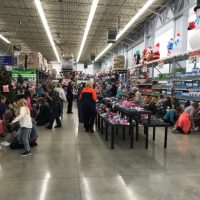 Three hundred students in the Galesburg School District are this year's recipients of philanthropy started by a late longtime local radio personality.
The Jack Larson Endowment Fund at the Galesburg Community Foundation brought the underprivileged students to the Galesburg Wal-Mart Wednesday, where they each received new shoes and socks as part of Jack's "Shoe Project."
John Larson is Jack's son.
"They meet up with a senior citizen or volunteer…and the process is that Wal-Mart orders enough shoes in each size for the children that are identified, so they don't have to pick — it isn't like they walk up and 'Tommy, here's your shoes.' They get to pick the ones that they like," says Larson.
Larson says for just a 20 dollar contribution to the endowment fund, residents can "sponsor" a student's new shoes and socks for next year. You can contact the Galesburg Community foundation about that.
"In [Jack Larson's] last days, one of his biggest worries was 'What's going to happen to the Shoe Project?'" says Larson. "We all assured him we'll make sure it continues. We've already set up a fund with Josh [Gibb, GCF Executive Director]. We'll make sure it happens. That really was one of the last things on his mind. To see it continue on in his name is really pretty humbling, actually."