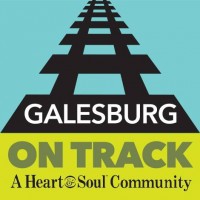 Galesburg On Track has collected over 2,000 ideas over the last year or so, to put into action to improve Galesburg. Starting Monday Galesburg On Track will be doing a series of eight focus groups that will be more closely looked at to see what those actions would look like and how they could come to fruition. For the better part of a year Galesburg On Track members have been learning from the community what matters most to them. From all those disparate opinions they whittled down eight value statements, and each of the focus groups will have a value statement as a central theme. History and cultural heritage is the value statement for Monday's group and Project Coordinator Debbie Moreno tells WGIL they will go over three major ideas that came up often in their community interviews that deal with the theme.
"Some of the questions we will be asking," explains Moreno, "are if we were to have a museum what would it look like, who would it honor, what portions of our history would perhaps draw other to the community, and would it serve outside visitors or would the museum serve us internally. These are all questions we are going to ask."
All of the focus groups will meet from 6:30 to 8 p.m. at Central Congregational Church and will be on Mondays and Thursdays. Other value statements that have been named are a healthy business climate, town image, quality education, service and amenities, easy accessibility and things to do which includes arts, entertainment and recreation.