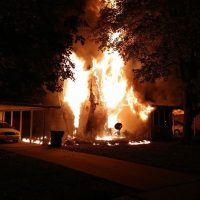 Monmouth Fire Chief Casey Rexroat says that they're not sure what caused a fire at a vacant property at 714 E. 5th Avenue early Friday morning.The property also suffered damage from a structure fire that broke out on September 7 but this latest blaze has rendered the home a total loss.
Monmouth Fire was called to fight flames at the two-story house that Rexroat said was burning throughout at 3 a.m.
Monmouth called on Cameron and Kirkwood departments to assist.
None of those responding were reported as injured.
Some neighboring properties suffered damage such as melted siding and damage to a vehicle.
Crews cleared from the scene after three hours and the Illinois State Fire Marshall is currently investigating the cause of both of the fires at the property.
Anyone with information is asked to call the Monmouth Fire Department or Crime Stoppers.