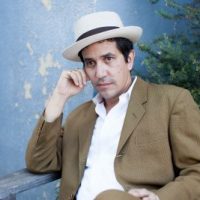 The son of the late singer-songwriter Jim Croce – known for hits like "Bad Bad Leroy Brown" and "Time in a Bottle" will be performing at the Orpheum Theatre this weekend.
AJ Croce has been performing for almost two and a half decades  – having written and recorded nearly a dozen albums over that time period.
His show "Croce: Two Generations of American Music" sees AJ performing not only his own tunes, but many of the classics made famous by his father.
AJ was just a few years old when his father passed in 1973 – and life didn't get much easier for him.
He told WGIL that he had poor vision as a child – saying,  "I lost my sight completely when I was four."
When asked if he ever listened to his father's old record collection, Croce said that a house fire when he was 15 destroyed them.
To top it off, AJ was physically abused by his step-father as a child, but through that he would eventually regain partial sight in his left eye and since has found success in music.
He says "The whole point of the show is the connection between my father and I. I play a bunch of his hits. I play bunch of stuff of mine that have been on the charts."
He says he plays songs that connect to him in a way, such as songs that have a similar style or story.
His performance will kick off Saturday night at 7:30 P.M. and tickets range between $25 and $30.