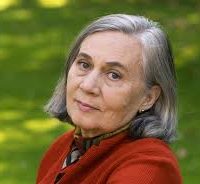 Knox College has been celebrating their 50th year of their Creative Writing Program.  In honor of the program's anniversary, the Caxton Club reading series will conclude with a visit from author Marilynne Robinson. 
Through the Caxton Club, novelists, poets, and essayists visit Knox every term to read their work and hold discussions.
Robinson is a 2005 Pulitzer Prize winner for fiction, a 2012 National Humanities Medal winner, and a 2016 Library of Congress Prize for American Fiction winner.
Associate professor of English at Knox, Nicholas Regiacorte, a former student of Robinson's, tells WGIL it's a significant visit. "She's very interested in the abolitionist principles that formed this college," Regiacorte said. "
The fact that it's a working college, a labor college – those are the things she writes about. (She) kind of weaves together matters of faith with making a living…making art.  That's to say, I think, Knox was right up her alley. She didn't take alot of convincing."
The event is fitting – Robinson mentions Knox College in an article for Harper's Magazine in 2008, as well as in a recent essay she wrote, "The Givenness of Things."
Free and open to the public, the event will be held Monday, October 23rd at 4:00pm in the Muelder Room of the Seymour Library on the Knox College campus.