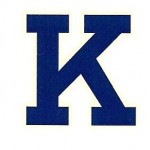 Last night the Knoxville School District 202 Board of Education heard of a possible intergovernmental agreement with the Knoxville Public Library.
Superintendent Steve Wilder informed the board families that live within the Knoxville city limits have free memberships to the library – paid through property taxes – that students outside those limits do not have access to.
Wilder's agreement would give those students access to the public library free of charge – and in return the district would exchange services or facility usage in return.
Wilder said there was not any action required from the board – as there was still some work to finish up on the agreement.
He added that in November both the School , and Library Boards would need to vote on it.
The board also approved the applications for early graduation for a dozen seniors at Knoxville High School.
The number was on the high side of average according to KHS Principal Chad Bahnks, who added that the early graduates would be allowed to walk in the graduation ceremony, but not attend school events such as prom.
Superintendent Wilder told the board that earlier in his education career he was opposed to early graduation – but as time has gone on he has become more open to the idea.
He also informed the board that these decisions are not made on a whim. Students are required to fill out the application, and then discuss it with parents, teachers and administrators.
Also approved was an $80 donation for Choral Dynamics, as well as several language changes to their district policies.