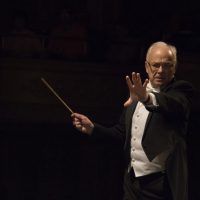 Bruce Polay has conducted the Knox-Galesburg Symphony for 35 years but says he's ready to move on.
This Sunday will begin his final season conducting the famed West Central Illinois Orchestra.
Polay three times in his career has been awarded Conductor of the Year by the Illinois Council of Orchestras.
Some favorite selections of Polay and many others are kicking off his final season on Sunday.
Sunday's matinee performance will begin with Johannes Brahms' "Academic Festival Overture" then Aaron Copeland's "Lincoln Portrait" with Terry Cavanaugh narrating letters from President Abraham Lincoln.
That will be followed by a piece that Polay thinks most will recognize in Samuel Barber's Adagio for Strings that's been used in many films like "Platoon" and "The Elephant Man."
After the will close with the timeless "An American in Paris" by George Gershwin.
Polay isn't only stepping down from the symphony but also as a professor at Knox College where he teaches classes in music history and composition.
"Knox has been an invigorating, wonderful place to have the privilege to be on the faculty," Polay says.
He says after he retires he plans on doing some traveling around the U.S. with his wife to see sights he's never seen before like Mount Shasta, the Smithsonian and Mount Rushmore.