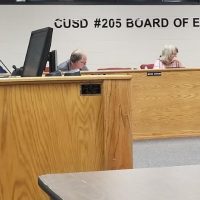 During the District 205 Board of Education meeting last night, the board heard a presentation from Ron Hilton, on the fiscal year 2017 audit.
The district receives a financial profile summary derived from five financial ratios, and the district was designated a 3.6 rating – the highest designation possible.
Last year the district received a rating of 3.25 – which according to Hilton, with still uncertainty from the State, the district has had great improvements.
The affiliation agreement with Carl Sandburg College was one of many discussion items covered.
Director of Human Resources Jon Bradburn informed the board that through the LPN clinical observation program, CSC nursing students can shadow nurses as they work in Galesburg schools.
The district has already hired two nurses from the program, and having a decent pool of prospects to choose from makes filling those positions easier.
Late start schedules will be implemented immediately by the district – pending notification to teachers and parents.
Moving forward, there will be an optional one hour and two hour late start schedule in the event of a snow day, severe weather, or power outage.
Superintendent John Asplund reminded the board members that no breakfast will be served on those late start days.
Discrepancies in the secretarial handbook was also discussed at length.
Other action items approved were the English Learners Community Liaison job description and the intergovernmental agreement with the City of Galesburg.
Last night the board continued their trouble-shooting with video taping / streaming meetings, and discussed the Bright Futures Grant and affiliation agreement with Carl Sandburg College.
The next scheduled 205 Board of Education meeting is set for November 13th at 6:00pm.