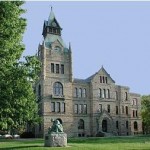 It was an unusually short meeting last night for the Knox County Building Committee.

Cody Basham of Klingner and Associates informed the board that the water repellent application is been delayed due to the rain, adding that they anticipated being done by the end of the month.
He mentioned some of the more difficult stains on the building were not coming off – even after adding biological cleaners – and that for the sake of the sandstone nothing more abrasive would be added.
Basham also said that the granite steps were installed as of Monday – and that the only bill for the committee to approve was $84,984.
Committee chairman Lyle Johnson said there was plenty of money in the building fund – which he said totaled nearly $600,000 ($594,067.98).
The committee approved the paying of the bill – and with no other items on the agenda – adjourned for the month.