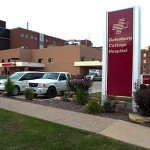 Cottage Hospital will be joining Blue Cross Blue Shield's Preferred Provider Organization, making the move almost as soon as on Tuesday OSF Healthcare announced they were pulling out.OSF had an agreement to be Blue Cross' exclusive provider in Galesburg.
But once that deal was terminated Cottage announced they will begin accepting Blue Cross starting Jan. 1, right as OSF facilities like St. Mary's will be dropping it.
Cottage's Marketing Director Eileen Inness says that this will be the first time since 1985 that Cottage will be taking Blue Cross Blue Shield.
"So now all of our surgical services are available, including our orthopaedic and general surgery," Iness says.
Also on Tuesday Unity Point Health in Peoria announced that they would be picking up Blue Cross Blue Shield as well.
Throughout Cottage's parent company, it was one of the few in Illinois that didn't accept Blue Cross previously.