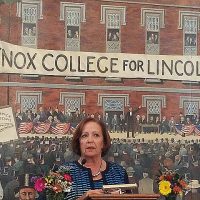 Monday's annual Galesburg Chamber of Commerce Legislative Luncheon held at Knox College hosted several local politicians including Senator Chuck Weaver, Senator Jil Tracy, Representative Dan Swanson, Representative Norine Hammond, and Assistant Director of the Department of Agriculture Don Moffitt.
Earlier this summer, the State of Illinois brought an end to a 2 1/2 year impasse by finally passing a state budget. 
When Rep. Hammond took the podium on Monday, she briefly explained why she voted to pass the budget.
"Our deficit had gone from $5 billion to $15 billion. If we had waited another year our budget deficit would be $24 billion and we pay millions of dollars a day in interest some of that interest is at 12 percent," Hammond says. "I'm very hopeful that the government is going to move forward expeditiously on the bond sales to begin to pay off those bills."
Part of the budget agreement is that the state will begin paying off it's oldest bills first. 
According to Hammond, paying off all $15 billion in bills would have left too big of a tax-increase burden. 
She said, if the state would've waited another year, and the deficit was at $24 billion, the tax increase would have risen to 8%.
The Republican noted that schools, nursing homes, and senior centers has received some certainty with the budget – but many more reforms are still needed.