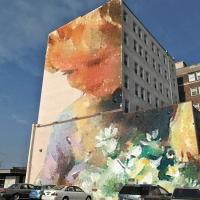 A larger-than-life art piece in downtown Galesburg is all but complete on the east wall of the Kensington.  Installation began early last week on the mural which is part of Julien De Casabianca Outings Project.
The Outings Project focuses on bringing artwork out of galleries and onto the streets.
Tuesday Cetin, Executive Director for the Galesburg Civic Art Center tells WGIL the installation went as planned. "It went up in pieces," Cetin said. "It's his largest mural..in the smallest community (he's worked with). It's basically just like a wallpapering application. It's mapped out pretty well – where we can tell which piece goes where. We're going to be putting a coating on it, but we have to let it dry completely for about a week – week and a half."
The mural features a young girl holding daisies, and is an adaptation of a 1928 Adam Emory Albright painting titled, "The Daisy Field." According to Cetin, "The Daisy Field" is the first painting purchased to become a part of the art center's permanent collection – and is currently on display through Saturday.
Also as part of the Outings Project, Casabianca did workshops at Knox and Carl Sandburg College – with pieces done on both campuses.