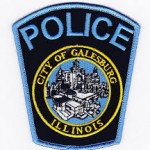 A man has been arrested after police were tipped off and given what appears to be homemade explosives.
On Tuesday, Galesburg police received a tip from the girlfriend of 54-year-old Stephen T. Rowland that he allegedly had been researching bomb making on the Internet and built some of his own in their West Simmons Street apartment.
She handed over to officers the alleged devices, including glass Starbucks bottle with an unknown black substance and wick sticking out of the bottles lid, a peanut butter jar with "Bore Butter" handwritten on the lid and a wick inside, among other things.
Rowland was taken into custody and charged with one count of possession of explosive or incendiary device, and one count of unlawful use of a weapon – Class 1 and Class 3 felonies respectively.
Officers searched the Simmons Street apartment looking for more bomb making materials and turned up guns – including a two scoped rifles, a shotgun, a revolver, and several boxes of ammunition – all of which were seized by Galesburg police.
The possible explosives were turned over to the Bureau of Alcohol, Tobacco, Firearms and Explosives for further testing.