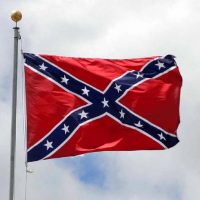 A business owner has taken issue with a Facebook message left by Alderman Jeremy Karlin in regards to a Confederate flag flying in the back of his business.

John Shotts, owner of Shotts Auto Machine Shop in Galesburg spoke during the public comment portion of Monday's Galesburg City Council meeting.
He explained to the council his reason for a confederate flag flying.
"This flag was put up three years ago when down south the government was trying to ban all Confederate flags," Shotts says. "I have a lot of friends down south so in solidarity with them I raised it up here North."
But Alderman Karlin commenting on a post that contained a picture of the flag over Shotts' business said that, " Those who insist on flying a confederate flag for history's sake are willfully ignorant of the principles that flag represents: bigotry, hate and racism".
Karlin declined to comment any further.
Shotts says he felt compelled to call police to monitor his business due to the post being commented on "thousands of times" but the post has since been taken down.
Shotts says he took issue with Karlin "tearing down" his business without coming to talk to him.
He said if people who had an issue came to talk to him he would have taken down the flag.
Alderman Peter Schwartzman says that symbols are powerful and mean things to different people.
"I think very often what we're finding in this society is that we're going in to silos and we're not learning from each other," Schwartzman says.
But he added that if someone is using symbols known to be hateful then they are "acknowledging their willingness to share that sentiment with the community."