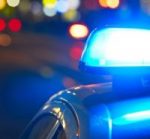 What was a domestic dispute turned into an altercation between police officers and a Galesburg man leading to an arrest.
Galesburg police officers were called out at 3:57 on Monday morning to a Huston Street apartment where 33-year-old Michael B. Smith was in the residence of his ex-girlfriend – refusing to leave.
According to police reports, Smith became combative toward his ex-girlfriend during questioning and refused officer's orders to stand down.
A fight ensued in which Smith allegedly struck an officer in the face and pushed another – eventually being pepper-sprayed and handcuffed.
Smith was taken to Galesburg Cottage Hospital where he continued being uncooperative and combative, but was cleared by medical professionals.
He was taken to the Knox County Jail and charged with two counts of assaulting a peace officer, and two counts of resisting arrest.