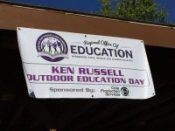 Ken Russell was the "fish guy" for many outdoorsmen in Western Illinois for decades, but also for thousands of 5th graders who attended Outdoor Education Day.
Today was Regional of Office Education 33's annual day for teaching students about the environment and conservation at Lake Storey, but it started off with an honor for the longtime event volunteer.
The day will now be known as the Ken Russell Outdoor Education Day.
Before the students rotated through stations about bees, reptiles and recycling, remarks were made by Regional Superintendent Jodi Scott.
Scott thanked the volunteers who had made the day possible, particularly Ken Russell.
"Ken began with Outdoor Ed day in 1987 as a biologist with the IDNR fishery. He continued as a volunteer through 2014," Scott says. "Today we want to honor Ken and all of the dedicated volunteers and presenters who believe in teaching  student how to improve, protect and enjoy the outdoors."
Ken's wife Janet said her husband had a passion for environmental improvement and conservation.
She said she hoped all the students would leave Lake Storey with "something for Mother Earth that will help her."