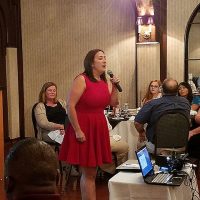 A teacher whose claim to fame is turning underprivileged students into successful graduates through reading and writing, which was then turned into a major motion picture, says she already feels like a part of this community.
Erin Gruwell — behind the "Freedom Writers" movement — made note at the United Way's first-ever kickoff banquet Wednesday of some special guests in the crowd at Soangetaha Country Club: students that are a part of the YMCA Solutions program, and says those are what drives her, and what should drive all of us.
"May we see their faces — the curiosity and wonder — of being in this beautiful place, to take home and share with their folks they ate food at the event, and gave someone a firm handshake," says Gruwell.
How do you make a movie about a teacher and her writing and reading movement with underprivileged students described as being extraordinary — once they're told they can be?
For Gruwell, it was easy: don't make the movie with well-known kid or teen actors.
"What we didn't want to do was hire those bratty kids from the Disney Channel or Nickelodeon," says Gruwell. "My students boycotted Justin Bieber…. They were tired of Miley Cyrus and that tongue. So rather than hiring peopel who were 47 pretending to go 14 like we see in Hollywood, we put a wide net casting call. 10,000 kids showed up."
The "Freedom Writers" movie starred Oscar-winner Hillary Swank as Gruwell, and did feature some well-known actors, like Patrick Dempsey. Danny DeVito was one of the producers.
District-205 middle school students have been watching Freedom Writers ahead of Gruwell's visit — and some have even started writing diaries, something Gruwell had her students do so they could tell their stories.
Gruwell is talking to middle school students Thursday at the Orpheum  Theatre, then going to an alternative school, and will be at Knox College in the evening.