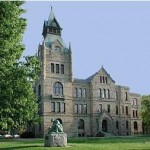 The Knox County Board will meet tonight and consider a change in venue for all future meetings.
The item was brought before the Finance Committee last week – where County Clerk Scott Erickson presented the option of moving the meetings to the Galesburg City Council chambers at City Hall.
Erickson says that the chambers would fit all 15 board members, and him, and provide a better listening experience for guests – all at no costs
"So we've talked with the city people, they are willing to allow us to use the city council chambers for our county board meetings and the Erickson Conference Room for closed sessions," Erickson says. "They'll be no cost to the county whatsoever as long as we don't do the live video streaming or production on Channel 7."
The board will also consider approving the motion to bid and bring back for a truck, snow plow blade, salt spreader and lawn mower for the nursing home.