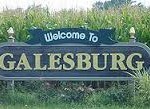 The City is applying for a grant that should make a dent in the long discussed issue of hazardous lead paint and dust in family homes.
They've announced plans to next month apply for the Community Development Block Grant state program's HELP grant, or Help Eliminate Lead Program.
This will set up a program which will be entirely funded by the grant in which comprehensive lead hazard control projects will be done on homes that meet certain criteria.
Those criteria are the homes must be substandard, pre-1978, single family and owner occupied.
The city has applied for a maximum of $500,000 from this grant.
Homes selected may have their residents displaced for a short period, so the Western Illinois Regional Council has been working on a plan to minimize those displacements and assist those who are displaced.
A public hearing is being held tonight at Galesburg City Hall for the community to express views on this project, starting at 6:30 p.m.