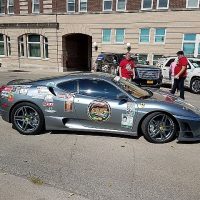 Several hundred people got the chance to look at what it takes to put together a reality show that its executive producer says is Amazon's version of "The Amazing Race" – "if it were done right, and it were real."
"Fireball Run" is an automobile race across the country, visiting various stops and taking part in various competitions along the way, including Galesburg.
But producer J. Sanchez told a crowd of several hundred in downtown Galesburg Tuesday, the race is much more than that.
"Each one of these people is representing a missing child from their hometown region," says Sanchez. "Over the course of the 2,000 miles and the eight days of authentically-produced television, they are distributing these posters [of missing children]. To date, our show has aided in the recovery of 51 missing kids."
CLICK HERE to find out more information about the missing children featured in the race.
The racers later traveled to Burlington, Iowa. The race filming in Galesburg will air this time next year on Amazon's internet video service.
CLICK HERE to watch a video of the filming taking place in Galesburg, originally broadcast through Facebook Live on WGIL's Facebook page.