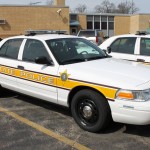 Obeying laws at railroad crossings may not only save you money but save your life.
Law enforcement around the state are promoting safety around railroad tracks for vehicles and pedestrians this week.
It is Rail Safety Week and specifically State Police will be closely monitoring rail crossings to enforce laws designed to keep the public safe.
67 percent of rail-related collisions happen at crossings with obvious warning signals like lights, gate arms and bells.
120 of those types of accidents occurred in Illinois last year.
Illinois is particularly saturated in railroad crossings as we have 7,400 miles of train tracks , the second largest rail system in the nation.
A reminder that it is against Illinois law to drive through a crossing while the rail gate is either closing or opening.
Following the law in these circumstances could save you and your passengers' life.
Some motorists may not be aware that it is a violation to cross the tracks until the gate is all the way up, and a fine of $500 could be assessed for the violation.
Illinois is ranked 2nd in the nation for railroad crossing fatalities.