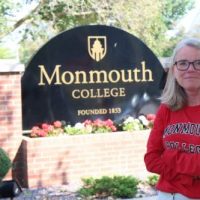 Monmouth College has finally named a new Dean of Students. Laura Hutchinson is the woman chosen and she brings with her over a quarter century of student life experience with her.She most recently was at Earlham College in Indiana where she was VP for Student Life, a different term for Dean of Students.
Monmouth President Clarence Wyatt says that Hutchinson was selected from a strong pool of candidates from around the nation but was the "clear choice." He cites her "broad experience, strong character, empathy and sense of humor."
Hutchinson holds a masters in philosophy and religious studies from Texas Christian University and says she appreciates Monmouth approach to integrated liberal arts. She says she likes how the college is "focused on its academic mission without losing site of student experience."
Hutchinson has big shoes to fill as she takes the place of Jacquelyn Condon who retired at the end of the last academic year after 23 years in the role.
Condon was the long serving administrator in Monmouth College history.
In the interim Associate Dean of Students Moshin Masood had been filling in as Dean of Students.