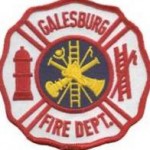 Someone is believed to have intentionally set fire to a Galesburg home that had had four people inside, including two children.

Galesburg Fire personnel had already extinguished the flames by the time the responding officer arrived on scene to 447 Locust Street at 4:32 a.m.
Galesburg Fire believes that the fire was set intentionally.
A female resident of the house told officers her fiancée had left to go to work at 4:25 a.m., just prior to being woken up by the fire department knocking on the door.
A neighbor is who called 911.
Along with the female resident, her 1-year old child, a friend and the friend's 9-year old child were in the house at the time of the fire.
No arrests have been made and an investigation is ongoing.
If an arrest is made the individual or individuals are likely to face aggravated arson charges which is a class X felony, carrying a sentence range of 6 to 30 years in prison.