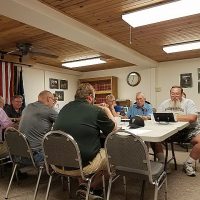 The Knoxville City Council has agreed to use Tax Increment Financing District funds to purchase some open land near Big Catz BBQ that's not being used but owned by Keith Vaughn of Knoxville Mercantile.
But that purchase comes with a restriction ultimately disallowing another business like Knoxville Mercantile – which sells hardware, candy, and ice cream – to locate on the site for 25 years. Vaughn says if he goes out of business, the restriction goes away.
"If we go out of business as Knoxville Mercantile, if the store closes down and there's not an operating business [the restriction is null and void]," says Vaughn, to the Knoxville City Council Monday. "If we sell to another owner, then this carries on."
Vaughn admits that the restriction is to "not promote business moving into Knoxville…this is to protect our business."
A previous version of the proposal had put the restriction in place for 40 years instead of 25. It's not clear what will become of the land in question. Alderman Lester Naslund, Ward 4, cast the lone "no" vote, saying he didn't like the deal.
The Knoxville City Council also learned Monday that Street Superintendent Tom Myers is retiring after 33 years. His last day will be November third due to vacation time, but he will be officially retired in January.
City employee Tim Rossell will take over – though some aldermen said if it were up to them, they would have voted "no" on Myers' retirement.