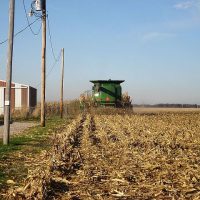 The local electric and natural gas provider says now that the fall harvest can begin at almost any time, farmers need to keep themselves safe.
Ameren wants farmers to be aware of overhead power lines as they get in their combines and get back into the fields – and the same goes for being aware of underground natural gas lines that may be pretty close to the surface.
"Equipment has gotten bigger and bigger over the years," says Craig Gilson, Ameren Illinois Senior Director of Division Operations. "We have a lot of facilities in rural America — not only overhead but underground. We always have a concerns about the hazard it might present to the farmers out there while they are harvesting or planting the crops."
Gilson says the utility responds to plenty of calls for help every year if a combine comes into contact with power and natural gas lines. So what should farmers do if they come into contact with a power line while harvesting?
"We encourage you to stay in the cab as much as possible," says Gilson. "Call 911 and we'll get someone out there as quick as possible. The danger you have is if you're making contact with a power line, the rubber tires acts as an insulator on your equipment. So you won't be electrocuted inside the cab."
Gilson says if you do need to escape the cab, jump out if you can; don't climb out, to lessen the risk of electrocution."
Gilson recommends calling "JULIE" at 811 if there are issues with natural gas lines, or the utility if overhead lines appear to be low or sagging.
(Photo courtesy Ameren)