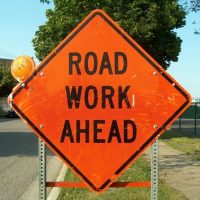 The Illinois Department of Transportation will be closing the westbound lanes of traffic for U.S. 34 between Seminary Street and the Interstate 74 interchange to work on the Farnham Street overpass today. Work is being done to correct some issues with the bridge that is the result of being struck by vehicles. Randy Laninga, IDOT's Operations Engineer for the project tells WGIL that this project will be similar to that of the work done previously on 34 – but to the eastbound lanes.
"The lane closure is going to last a little bit longer than it did a couple weeks ago," explains Laninga, "but we will be replacing some beams on the bridge so we can get Farnham Street opened up."
IDOT is requesting that travelers slow down and show extreme caution while driving through all work zones. Motorist should follow the marked detour and expect travel delays in the area.