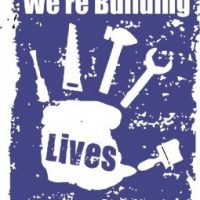 For 24 years, Habitat for Humanity of Knox County has been growing the community with affordable housing. 
It takes volunteers, donors, local businesses and churches along with a commitment from a partnering family to make Habitat such a success.
Jordan Knight is the Executive Director for Knox County's Habitat for Humanity, he tells WGIL Habitat is prepping for their 53rd groundbreaking Saturday at 11:00am.
Talking about what what it takes to put together a great group of people to help out Habitat for Humanity, Knight says "I've got a crew of great volunteers – skilled in a lot of different areas of construction. Skilled in areas of just working with folks from different backgrounds. Willing hands and an open heart go a long way. Folks that are just willing to take somebody under their wing – give them some guidance. The great thing about Habitat.. you put some of those differences aside. Because we're building on faith – we're working together."
In partnership with qualified families and several volunteers and donors, completed homes are sold at cost through a 25 year, 0% interest loan.
Partnered families also provide 500 hours of "sweat equity." Families and their friends donate time and hours working on homes and volunteering.
Ashley Cherrington is the 53rd partnered family and her home will be located in the Eckland Court cul de sac on South Chambers Street.
Additionally, on October 7th, the Eckland Court cul de sac on South Chambers Street will be closed down for a Habitat for Humanity gathering – near where four habitat homes have been built.
The 52nd home being built will be available for tours.
Guests can find out more on volunteering for Habitat for Humanity, or to see if you could become the next partnering family.
There will be food, games for the kids, and live music.