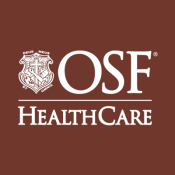 OSF HealthCare facilities have been making major efforts to reduce energy consumption at their facilities over the past nine years – the equivalent of 342 tons.
On Thursday they were awarded for their trouble by Ameren Illinois with their Energy Saving Projects Excellence and Environmental Award.
Since 2008 OSF Healthcare across their various locations has lowered their electric and natural gas usage, resulting in a positive impact on the environment.
They saved over 203,000 therms of gas, more than 6 million kilowatt hours of electricity.
That equates to 5,937 metric tons of greenhouse gas emissions which would pollute the enviroment.
638 homes could have been powered for one year in the amount of energy OSF saved.
Some of the projects they put into place are changing fluorescent lighting to LEDs, updating burners in boilers new motors in pumps, and fans and ventilation systems that run at varying speeds.
OSF says that's the equivalent of recycling 342 tons of waste instead of throwing it in the landfill.
In this award-winning time period OSF they've undertaken 143 project to reduce energy consumption.
Besides the environmental impact this came as tremendous cost savings for the healthcare group.