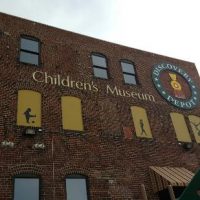 Earlier this week, the Galesburg Discovery Depot Children's Museum began work on the 2nd floor of the building in preparation for new exhibits.  
The parking lot connected to Chambers street will reopen today – until then, guests are encouraged to use the Mulberry Street parking lot.  
The Depot removed the freight elevator, that was originally built in 1904, earlier this summer – and will begin removing the wooden elevator shaft. As the Depot expands to the 2nd floor, a new passenger elevator and staircase will be installed in addition to a new roof on the building. 
Denise Bradburn, Executive Director of Discovery Depot, tells WGIL it's a 1.5 Million dollar project, so it takes a lot of community support. 
"We are just tracking forward with our expansion to the 2nd floor. We're still raising funds for that if anyone is interested in being a donor for our expansion, they can reach out to me here at Discovery Depot. It's a large undertaking, but it will double our exhibit space here," Bradburn said. 
When completed, the 2nd floor will feature a science learning classroom provided by OSF St. Mary's Medical Center and the Children's Hospital of Illinois out of Peoria.  
The Depot will also feature 750 square feet of modern water exhibits on the 2nd floor. Bradburn says design plans aren't 100% final as of yet, but the new layout will certainly be dynamic.