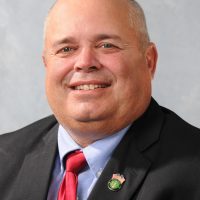 Valley Construction of Rock Island is gathering supplies to send to Houston to aid in Hurricane Harvey efforts.
The company is getting assistance from three state legislators including the 74th District's own Dan Swanson.
The Republican Swanson along with Representatives Tony McCombie of Savanna and Mike Halpin of Rock Island are encouraging constituents to donate goods and bring them to a variety of locations.
There are various locations to give for those interested.
Probably the closest for most of the WGIL listening area would be in Rep. Swanson's legislative office in Woodhull at 536 Oxford Avenue Suite D.
Some of the items they are asking be donated include; plastic totes, bleach, flashlights, batteries mops, brooms and diapers.
Questions can be directed to greghass@valleyconstruction.com.
The company is hoping to fill two trailers to take down to Texas on Sept. 16 but if they receive for than what two trailers can carry the remaining items to areas impacted by Hurricane Irma and they ask all items but brought in by Friday.
Here's a full list of locations where items can be dropped off.
Valley Construction, 3610 78th Avenue West, Rock Island, IL
Duck Creek Tire, 4000 Middle Road, Bettendorf, IA
Two Rivers YMCA, 2040 53rd Street, Moline, IL
Heritage Church, 4801 44th Street, Rock Island, IL
Quad City Botanical Center, 2525 4th Avenue, Rock Island, IL
Quad City Times, 500 E 3rd Street, Davenport, IA
Rep. Halpin's Legislative Office, 1504 3rd Ave. Rock Island, IL
Rep. Swanson's Legislative Office (Until Thursday), 536 Oxford Ave. Suite D, Woodhull, IL
Rep. McCombie's Legislative Office (Until Thursday), 9317 State Route 84, Savanna, IL