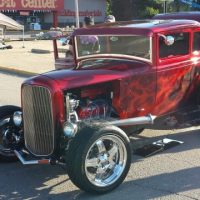 After a busy weekend of community events and activities there's another event today that the public is invited to but will especially peak car lovers interest. Interesting cars from throughout the area will be descending upon the VFW for a car cruise. Anyone who would like to bring in a car can just show up, they just ask that you sign in once you get there. Lest you think its just about cars, you would be mistaken. It's also an opportunity for any one who would like to go through the Stockdale Citizen Soldier Museum. Plus organizer Fran Hawthorne says there will be plenty to eat and prizes to win.
"We have Smokin' Willies BBQ that's going to be there," expresses Hawthorne, "and a raffle for a quilt I do every year."
The cars will start rolling in at 10 a.m. at the VFW located at 1001 Michigan Ave. Hawthorne also says that the VFW Auxiliary has a scholarship that's open currently for any high school students. If they are chosen for the local level they could go onto the district level and possibly even higher, gaining more scholarship dollars for every level they advance. The maximum a student could get towards their education would $30,000.