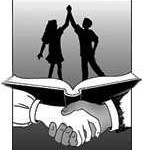 Administration from District 205 held their first community engagement meeting last night at the Galesburg Public Library.
More then 25 community members were in attendance where they filled out dream charts with what they think students need in order to succeed after high school.
Galesburg Superintendent Dr. John Asplund introduced Farmington's Principal Missy Ryba and Rockridge Superintendent Perry Miller who gave instruction to the community members on how to fill out the dream charts.
Ideas such came up such as a later start time at the high school, to offering more dual credit options to students, and even teaching students how to be financially literate.
Each table of community members then collaborated together creating a larger list of ideas and dreams that where then voted on individually by all members and those totals were then collected as data.
The next meeting is scheduled for Tuesday, September 12th at 6:30 at St. Patrick's Catholic Church on South Academy.