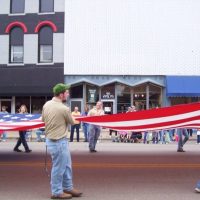 The 2nd-longest continually running Labor Day Parade marched through downtown Galesburg yesterday.
In what lasted about an hour and a half, spectators both young and old lined the streets. 
Area high school marching bands including Galesburg, Knoxville, ROWVA, and Monmouth College participated in what was the 125th annual Galesburg Labor Day Parade. 
The parade also consisted of antique tractors, first responder vehicles, 4-H clubs, girl scouts, local businesses, area politicians, and lots of construction equipment. 
Labor unions from ironworkers and electricians, to sheet metal workers and engineers also participated – with nearly a half dozen Stearman doing fly-overs during the event. 
At the conclusion of the parade – which ended at the Knox County Courthouse, a small crowd gathered for a presentation by Mayor John Pritchard and Larry Diemer.
Diemer read a nearly 100-year-old passage by Carl Sandburg: "I am the people, the mob."
"Do you know that all the great work in the world is done through me? I am the working man, the inventor, the maker of the world's food and clothes. I am the audience that witnesses history. The Napoleons come from me and the Lincolns. They die. And then I send forth more Napoleons and Lincolns," Diemer read.
Diemer tells WGIL that Sandburg often stood up for the working people. 
The passage was intended to show that working people do amazing things, and get almost no recognition for it. 
Parade organizers are hoping to make the presentation at Standish Park an annual event after each year's Labor Day parade.