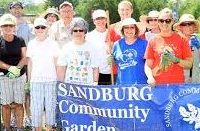 What started as a grant in 2011 for a project for both community members and Carl Sandburg College students and faculty, has grown into a charitable operation that…keeps growing. 

The Sandburg Community Garden began with about 10 volunteers and a plot 60 foot by 60 foot – now volunteers have doubled – and the plot is now 70 foot by 75 foot, with a second plot that's 70 foot by 10 foot.
Mary Robson, now a retired health and physical education professor, has helped organize the garden since it's beginning. Robson also sits on the Carl Sandburg Foundation board, teaches part-time, and still leads the group.
Robson tells WGIL the volunteers are now about 1/3 master gardeners, and 2/3 community members.  "We not only donate produce, we also share ideas on how to cook the produce and how to store it. Wednesday morning we're going to have a little cookout after we harvest.  We're going to share ideas and taste vegetables out of our garden – just as a fun activity," Robson says. 
The volunteers report to the garden on Mondays and Wednesdays around 9:00am. Robson says that since more volunteers show up – they don't need to work more than a couple days a week. 
This year the garden has produced over 2,500 pounds of produce. All the produce is donated to FISH Food Pantry, La Grace Hall of Hope, and the Salvation Army. 
Robson says that if anyone is interested in joining they can visit the Sandburg Community Garden Facebook page – or email her at: mrobson@sandburg.edu