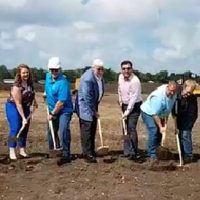 A project in Galesburg with a lot of stops and starts is back to a new "start."
Ground has officially been broken on the long-planned new Burger King restaurant, to be located on North Seminary Street next to Casey's, and not far from the Seminary Square Shopping Center.
Mayor and WGIL owner John Pritchard is among those happy the project is back on track.
"It's a nice addition to our community," says Pritchard. "We like it when developers and franchise owners decide to come here and invest in our community."
Franchise owner Maruti Seth of Danville tells WGIL there was one delay after another that can't really be attributed to one thing, but there was one thing that was constant that whole time.
"The city has been awesome," says Seth. "Look around [at] how many people showed up here [to the groundbreaking] to welcome us. It's been just a good experience. None of those delays were necessarily because of the city. I have to say that they have been wonderful people to work with."
Despite the delays, Seth says he still anticipates the Burger King – his 23rd – to be open in late-November.
CLICK HERE to watch a video of the groundbreaking.  And, listen to a full interview with Maruti Seth Wednesday at 5pm on "Galesbubrg's Evening News" on WGIL.