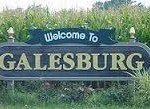 Repairs are in the process of being made at Kiwanis Skate Park in Galesburg.
The skating facilities have nearly constant activity when weather allows but according to contractor Aaron Olin years of wear had made the equipment structurally unsound.
Olin reached an agreement with the City of Galesburg to donate his labor to making repairs on the equipment if they provided materials. 
12 to 15 volunteers gave their efforts to helping Olin make the repairs on Saturday.
Olin and Owner of Glory Days Barbershop Kyle Rohweder put a call out on Facebook that's how the team came together.
"It kinda came together. A lot of the skate kids, they spend a lot of time down there and they were all, 'we need help fixing it' so they all showed up hammered and ran drills and helped carried stuff and ran saws and everybody came down and put a lot of work in," Olin says.
Olin says on Saturday they got a lot of the structural work done and pulled up most of the surface and screwed it back down. 
Sunday work was back underway before the rain came in, so they will return next weekend to cover up the spots that are still open.
David Carr, owner of Carr Construction in Monmouth also donated tools and a generator to aid in the work.