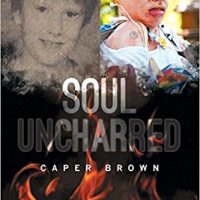 In April of 1990 10 year old Caper Brown suffered a life changing horror – he was severely burned on 98 percent of his body. 
Caper has since moved on from the horrific events that changed his life and has written a book entitled 'Soul Uncharred' – that details his experiences with the severe burns and how he's lived since that fateful day. 
Struggles included the amputation of his hands and feet – something he was not made aware of until after the procedure – as well being admitted to a burn center Galveston and surgeries.
Brown went through over 100 surgeries in 2 years.
He also went through daily, painful baths because of skin graphs.
His book details the fire he survived, the struggles and pains of surgery, but also is filled with hope.
His book is available on Amazon-dot-com, Barnes and Noble book stores, and locally at Iron Spike Brewing Company, and Stone Alley Books and Collectables.