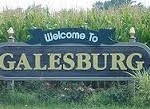 The City of Galesburg's unemployment rate ticked up slightly in July from 5.3 to 5.5%.
Galesburg's rate is fairing better than comparable cities like Danville, Kankakee and Macomb who are all above 6% unemployment.
But Illinois Director of Commerce Sean McCarthy the modest gains in Illinois still lag behind the rest of the nation. Professional and business services and tourism were the two biggest job gainers.
"The strong employment growth exhibited in the U.S. is not being felt in Illinois," says IDES Director Jeff Mays. "Nonfarm payroll growth in the state remains anemic and labor force participation continues to decline."
Knox County has been able to hold their unemployment rate steady in the past month.
Knox County's unemployment rate stands at 5.0% for the month of July, ranking it 55th in Illinois. That 5.0% rate also holds true for what is considered the Galesburg micropolitan area.
Knox's rate is just above the Illinois average of 4.9% and the national average of 4.6%.
Rates in Knox's immediate vicinity are led by Warren County at 4.6% and Mercer at 4.6% who has shaved off two points since this time last year.  McDonough County continues to struggle with an above average 6.4% unemployment rate.
The state has a whole gained 2,100 non-farm jobs according to preliminary data from the U.S. Bureau of Labor Statistics, with the biggest losses in educational and health services.