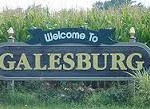 At the Galesburg Planning and Zoning Commission meeting earlier this week, the committee heard and approved several proposals for development projects in the city.
One such project would see renovations come to the former Wal-Mart that sits just off north Henderson street, and Carl Sandburg Drive.
Steve Gugliotta, Galesburg city planning manager, detailed the changes the planning and zoning commission, saying "What this will do is essentially create two lots where the existing Wal-Mart building is that'll be one lot – including much of the parking lot. And then there'll be an outlot created – kind of – in the northwest corner of the property."
Kevin Cooper with Bruner, Cooper & Zuck, Inc. spoke before the commission regarding some of the changes that look to be implemented. He said, "The developer intends to redevelope the old, former Wal-Mart building with some more retail units in there and then they're thinking about putting a restaurant in this new lot that's going to be created in the northwest corner of the property. "
The property has been empty for 10 years – when Wal-Mart opened a SuperCenter at the Seminary Square Shopping Center.
The city council will consider the proposal at the September 5th meeting