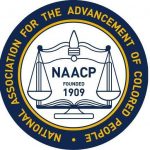 The Galesburg NAACP will be holding their annual Gala tomorrow (Saturday) at Knox College's Center for Fine Arts.  
President of the Galesburg NAACP DeVone Eurales gives WGIL some details on the event: "(It's) an opportunity to come together, have fun, but also an opportunity to raise the funds needed to do the things we like to do throughout the rest of the year. We're looking forward to it. We'll probably have a crowd of around 200 to 250. It's affordable, $30 a ticket. And there's still tickets available for folks that still want to come."  
The theme – or colors for this year's event is chocolate and raspberry. 
The event is black tie optional – many people will be dressed up, but any attire and anyone and everyone is welcome to attend. 
GHS and Knox graduate and District 205 teacher, John Sibley Jr. will be the speaker at the event.  
There will be a scholarship presentation, a silent auction and a cash-bag auction with proceeds to benefit the NAACP. 
The event begins at 6:30pm tomorrow (Saturday) with cocktail hour beginning at 5:30pm. 
Knox College's Center for Fine Arts is located at 500 South Prairie Street. 
For tickets, to donate, or for more information you can call NAACP President DeVone Eurales at 309-335-61-64.