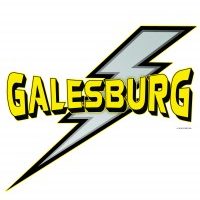 Don't mention "rebuilding" to anyone involved with the Galesburg High School football team as it prepares to open the season tonight against Dunlap.
Yes, the Silver Streaks lost a lot of experience off of last year's 8-3 team — 8 offensive and 9 defensive starters, to be precise.
But after more than 9 months of work in the weight room, camp and offseason preparations, coach Tim Dougherty says his players are ready to step up, just as Clark Hawkins did at quarterback in a week 9 upset of #1 Peoria High last year.
Dougherty says, "Hopefully every kid that we put in tonight is going to do what Hawkins did… you've been developed into a right tackle, nose guard, whatever it is – next man up. We preached it, and I think the fruits of the labor I think, hopefully, are going to stand that test."
Dougherty says that despite heavy losses to graduation last year, the coaching staff did not simplify the playbook in the off-season – saying "Now you can only ask yourself that so many times in the off-season. Are we going to shrink the defensive package, shrink the offensive package. Going into the summer as a staff we decided 'No. Let's see what they can do.' We literally pushed as much as we have in the last two years. There's really nothing that we had to cut cause the kids couldn't absorb it.
He also says he and his coaches are relying on new leaders to keep moving the program forward, "We've really pushed the envelope this summer with that. The kids have responded, we'll see how that takes place in battle, under duress and fatigue. If that holds up I think we'll be fine."
Tonight's opponent, Dunlap, is coming off a season where the Ealges finished the season on a 4-game winning streak to make the playoffs, only to lose in the opening round.
They are anchored by a core of returning starters, especially on defense, led by inside linebacker Charlie Mangieri, who is headed for Northwestern with a full-ride scholarship.
Broadcast for tonight's season opener starts at 7:06 on 93.7 FM 1400 AM WGIL with the new team of veteran Brad Bennewitz, and rookies Shawn Hickey and Jake Miller.
---
SCHEDULE FOR AREA TEAMS WEEK 1:
DeKalb @ Moline
Belleville West @ Quincy
Alleman @ Peoria Notre Dame
Rock Island @ St. Charles East
Chicago Tech Academy Charter @ UTHS (Saturday)
Mid-County @ Abingdon-Avon
Annawan-Wethersfield @ Knoxville
Havana @ South Fulton
West Central @ North Fulton
Princeville @ Lewistown
United @ Illini West
Stark County @ Elmwood-Brimfield
Mercer County @ Farmington
Ridgewood @ Peoria Heights/Quest
Rockridge @ Monmouth-Roseville
Sterling Newman @ Kewanee
Sherrard @ Morrison
Spring Valley Hall @ Orion