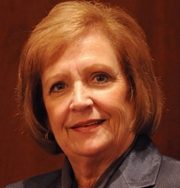 Wednesday's legislative session in Springfield got scrapped, as leaders continue school funding negotiations.With the budget legislators approved last month requiring a new formula for schools to get state money, Republican Gov. Bruce Rauner rejected the plan majority Democrats approved.
After The Senate overrode Rauner's veto, House Speaker Michael Madigan says if there's no compromise this week, he'll schedule a House override vote next week.
In a statement released by Assistant House Minority Leader Norine Hammond of Macomb, she says, "Whether or not SB 1 would be effective immediately if the amendatory veto was overridden is…questionable."
"..the effective date could be 2018…we cannot wait until 2018 to fund our schools."
"Senate Bill 1 does not have the support of 71 members in the House required to override the amendatory veto."
Hammond says all four legislative leaders are meeting on Friday – and are close to an agreement.
The Republican Representative went on to assure the citizens of the 93rd district that her colleagues are working with extreme urgency.
She went on to say in the statement: "This reform needs to be put into place to create a fairer, more respectful funding for all of Illinois' school districts….I am optimistic that compromise is just around the corner."