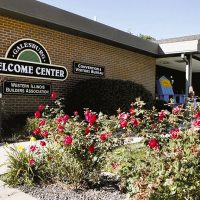 The Illinois Office of Tourism reported that domestic and international travel expenditures increased by $571 million from 2015 to 2016.  Knox County contributed just under $80 million in travel expenditures for Illinois and $1.91 million in local tax revenue.  The tourism industry created 10,000 new jobs across Illinois – 3.8% of them in Knox County.  Jessica Linder, the acting Executive Director of the Galesburg Area Convention & Visitors Bureau tells WGIL that over the past year – strategically marketing the community has played quite a role.
"We've entered some new events. We've added events like Galesburg Express, and we've also supported some of our existing ones – and really worked to strengthen their capacity to support overnight travel to those events," Linder explained. "We've really started to strategically market the community and hope to continue to do that – in similar ways as the past, and in some new ways as well." Linder went on to say, "Having visitors in our region…creates jobs, generates sales and hotel/motel tax receipts; …the bureau is working to turn our tourists into repeat visitors."
According to the U.S. Travel Association, every dollar invested in Illinois tourism generates $9 in economic impact.  Illinois had over 110 million domestic visitors – a increase of 1 million from 2015 – and an increase of 19 million over the past decade.