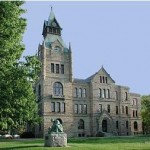 Tonight the Knox County Board could approve the appointment of Tara Wilder to fill a vacancy position on the board. 
Precinct Committeemen voted to appoint Wilder to fulfill the unexpired term in District 3 for former board member Michael Nelson, who cited health problems when he resigned in July. 
The board will consider several items approved by county committees earlier in the month, including the approval of bids for a pair of cars for the Sheriff's Department for over $27,000.
In addition, there several other vehicle purchasing bids on the agenda for the board to vote on.
Also being considered for approval is an invoice from Klingner and Associates for Courthouse Electrical and Plumbing Projects for a total of $13,352.75.