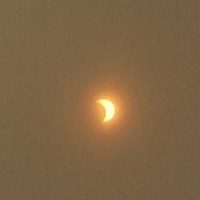 People all over the continental U.S. cast their eyes to the skies yesterday afternoon to check out the much buzzed about total eclipse of the sun
Galesburg residents were no different, in fact at least two Galesburg residents and local officials took off further south where the eclipse was in greater totality.
Attorney and Alderman Jeremy Karlin went to Columbia, Missouri with his son.
He described watching the progression through his glasses, seeing the sun make a "toe-nail clipping" like shape and instead of a sunset in the west he says you were suddenly surrounded by sunset.
"You were surrounded by sunset and it did get quiet, it did get cooler, all the crickets and cicadas were chirping, the birds were not and there was just this kind of collective, 'aaaah' from the whole crowd,"  Karlin says
Judge Scott Shiplett wanted to maximize the chances he could get somewhere with a clear sky.
He left Galesburg at 1 a.m. to drive to Chester, Illinois which is in between St. Louis and Carbondale.
He pulled over at a covered bridge being the second car parked there and he says a "community sprung up" of a few hundred people with in hours.
Shiplett said from his spot it was a "crystal clear sky" with out a cloud to be seen.