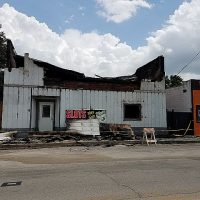 Wataga, Illinois may have lost a historic building when Jimmy's Pizza caught fire in June – but the small town certainly won't lose one of their favorite hotspots. Demolition of what's left of Jimmy's Pizza in Wataga is all but completed. An architect is meeting with owners Debra and Jimmy McCormick this week to go over and finalize plans for the rebuild. Deb McCormick tells WGIL that "the outpouring of support has been tremendous" with the Jimmy's Pizza Facebook Page and community involvement as busy as ever.
Last weekend was Jimmy's Pizza's annual golf tournament. McCormick reports it was "one of the biggest and best turn-outs" they had ever had.
In the meantime, in an effort to say "thank you" to two of the eight fire departments that responded, Jimmy's Pizza and the Oneida/Wataga Fire Departments are hosting a taco night fundraiser on September 2nd. And while plans for the new Jimmy's are being finalized, McCormick says she's collecting salvageable bricks, wood, and metal bars to incorporate into the new establishment. She says, "things like this really take a long time," but she's hoping for completion of the new Jimmy's in the spring.